My name is Matt, and I'm 14 years old. I've had an interest in biking for a number of years. I started out with BMX, and ended up here with an avid interest in dirt jumping, ramp, street, park, and a little bit of vert. I also flatland, but I'm not too good at that. My bike is a Powerlite Pro dirt jumping/trails frame (im getting the FBM Angel Of Death soon). I ride alex triple wall 48's with the new Redline hubs Mark Kehl rides (oversized axles of course), Primo Powerbite 3-pc. cranks, Haro Small block sealed pedals with Profile spindles, the Poverty Boss Cogg sprocket, and the KMC 415H Street Chain. I ride Mirra Pro bars, Odyssey grips, working on buying a good headset, Liquid fork and stem (looking into the Primo Casket). Haro Catapult Nyquist tires, Liquid pegs, Liquid 4130 seatpost, Fuzzy Hall dirt jumping seat with grab rails. No brakes. I dont like brakes- they get in the way. I feel as if its more of a challenge without brakes. If you feel the need to comment on my bike setup, please do, unless its a bad comment that will give me the urge to beat you senseless.
Here's a couple of good jumps.
I'm working on my street riding more and more these days- I'm also getting back into grinds again- have more news for you later....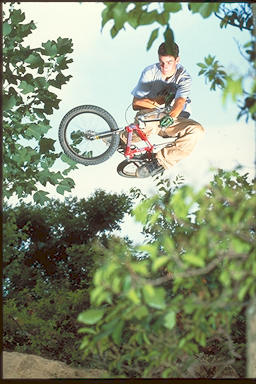 I don't know why, but I really like this picture!